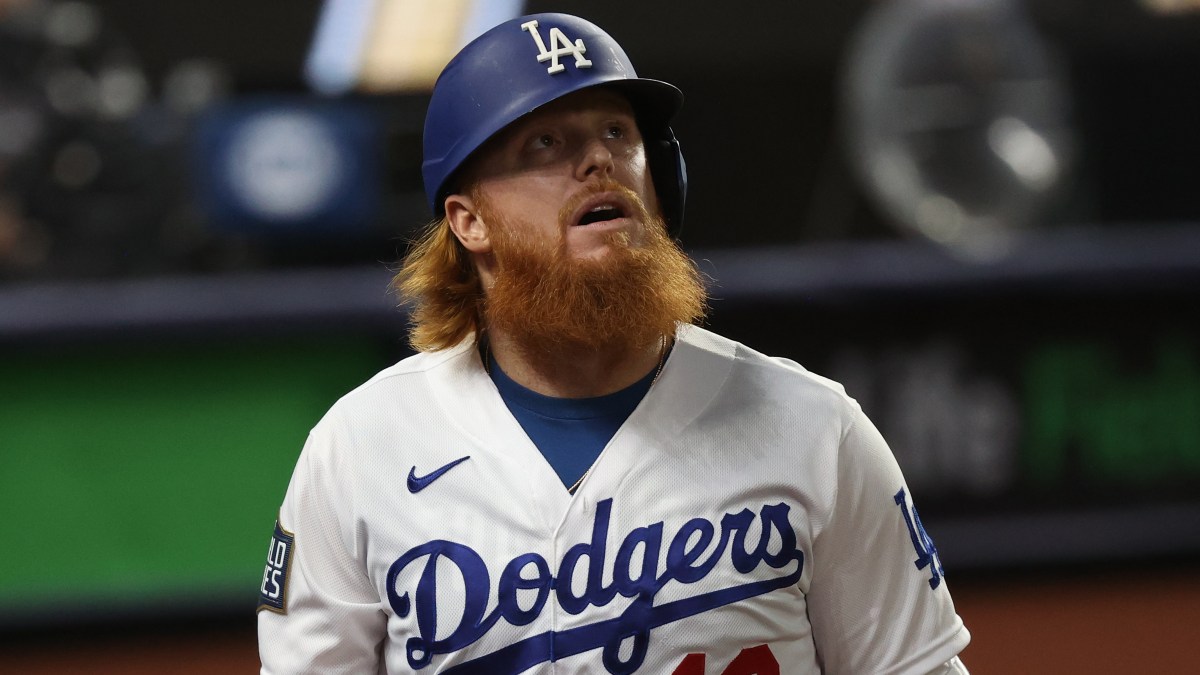 The talk of the town in Los Angeles is who will be the new or returning third baseman for the Dodgers. Certainly, everyone is familiar with the fan favorite and soon to be Dodger legend, Justin Turner. The veteran player has been the Dodgers primary third baseman since 2014. Since Justin Turner is now a free agent, the Dodgers front office have a few decisions to make in order to compete for another World Series title in 2021.
We've already discussed that the Dodgers Interested in Trading for Nolan Arenado to fill the current vacancy left by Justin Turner. There is no real vacancy as there has been no word on whether Turner would like to remain with Los Angeles or if the Dodgers want Turner to remain in Los Angeles. Though, I feel that there are a few factors that will play into this decision: Turner's age, contract details and the universal DH.
Justin Turner just turned 36 years old last week and is still a threat at the plate and at third base but he has started to show some signs of slowing down. Turner has been dealing with hamstring issues in recent seasons that limit his ability to stretch a single into a double or score from second on a single. When Turner is on the base paths, you sometimes worry that one wrong step may be the difference between a run scored or two weeks on the injured list. This is something that cannot be ignored.
Turner is now a free agent after completing a four year, $64 million deal that he signed in 2016. That was his big pay day and now, he should look to resign with the Dodgers for a smaller and team friendly deal. Turner is great and he means a lot to the Dodgers, but he isn't worth more than $16 million per season anymore. Ideally, Turner could conjure up a two year deal for $16 million. I would love to see Turner, just like Clayton Kershaw, end his career with the Los Angeles Dodgers.
Lastly, the universal DH was a huge success in 2020 during the shortened regular season and should stick around for good. We need to face facts, the amount of pitchers who cannot hit a baseball far outnumber those who can swing and get a single. Let's prolong the pitchers season and decrease the risk of injury at the plate by having another member of the team bat in their place. For the Dodgers, Justin Turner could be the perfect fit for this position.
Justin Turner may be slowing down at third base a bit, and at his age, injuries are more likely to happen. Though, he still swings a menacing bat that is a force to be reckoned with in that Dodgers lineup. Keeping him in there with Mookie Betts and Corey Seager should scare opposing pitchers.
So if the Dodgers do not resign Justin Turner to play third base and only as a designated hitter, who is going to play third base?
This is where the Dodgers have more flexibility than other teams in baseball. The Dodgers have Edwin Rios who has already proven that he can play great defense at third base while being able to hit moonshot home runs. Rios, 26, is 10 years younger than Justin Turner and won't be a free agent until 2026. With his limited amount of playing time in the 2020 season, Rios was able to record 19 hits, eight home runs and a .250 batting average. I believe that his batting average would be in the upper .270-.280 mark had he been the everyday third baseman.
Edwin Rios could be a perfect in house option for the Dodgers. He is a cheap player that has a high ceiling that they could capitalize on. Being only 26, Rios should draw lots of interest not only from the Dodgers but from other teams as well.
So Jack, if the Dodgers decide to let Justin Turner walk and decide that Edwin Rios is not their man for the third base job, who will be next on the list?
Kris Bryant and Nolan Arenado have to be the two biggest names out there for third baseman. Neither is a free agent…yet. As mentioned in Dodgers Interested in Trading for Nolan Arenado Arenado has one more year left on his current deal before he has an opt out clause. Kris Bryant on the other hand won't be a free agent until after the 2021 season. With that though, many executives within baseball believe that the Chicago Cubs will trade him before spring training.
Bryant has already won an MVP, Rookie of the Year and World Series Championship and been a three time All Star with Chicago. He is only 28 years old and is going to command a hefty pay day after the 2021 season. The Las Vegas native is set to make roughly $18-19 million this year in arbitration which would make others believe that he would be looking for the same amount of money in free agency. Is he worth it?
I think Kris Bryant is worth about $18-22 million per season for about five seasons. Bryant is another player who has dealt with injuries and in the 2020 shortened season, he only played in 34 of the 60 games. In that season he hit four home runs, 11 runs batted in and hit a measly .206 at the plate. In 2020, Bryant dealt with oblique injuries, a sprained wrist and fingers and had back issues during the start up camp over Summer.
Dodger fans should be thinking to themselves, where have we heard this story before? Corey Seager should be your answer. He dealt with Tommy John surgery and then a hip surgery that caused him to not be at 100% for a couple of seasons. Then in 2020, at full health, Seager unleashed the beast and dominated. Imagine the same results for Kris Bryant.
Acquiring Kris Bryant should not be too big of a challenge as the Dodgers always seem to have the upper hand in these trade talks. Using Bryant's injury history along with his high salary for 2021 and the fact that he would be a rental, mixed with the Cubs needing to make financial decisions to save the rest of their team, the Dodgers have all the leverage. Surely, they would have to send a top player to the Cubs in return and that player could be Keibert Ruiz coupled with a few lower level prospects.
Kris Bryant along with Corey Seager, Cody Bellinger and Mookie Betts makes for a great top of the lineup. All of the players are younger than 30 and still have their best years to come. The same could be said if you replaced Kris Bryant with Nolan Arenado.
A Dodgers/Arenado trade would be put in the hall of fame of trades along with the Mookie Betts trade. The idea of having the best third baseman in baseball on the best team with arguably one of the best players in baseball makes the Dodgers scary. Pulling off this trade would require patience and a lot of working parts in order to secure that top prize.
Andrew Friedman and co. definitely have their work cut out for them during this offseason. When something happens, though, it would be hard to imagine that the move would be a bad one. Friedman is always playing chess and knows that each and every move the Dodgers make has to benefit them and not hurt them. Giving up the farm system isn't the idea and neither is paying too much money for one guy.